Samsung Washing Machine Repair Dubai
April 21, 2019
Posted by: admin
category:
no comment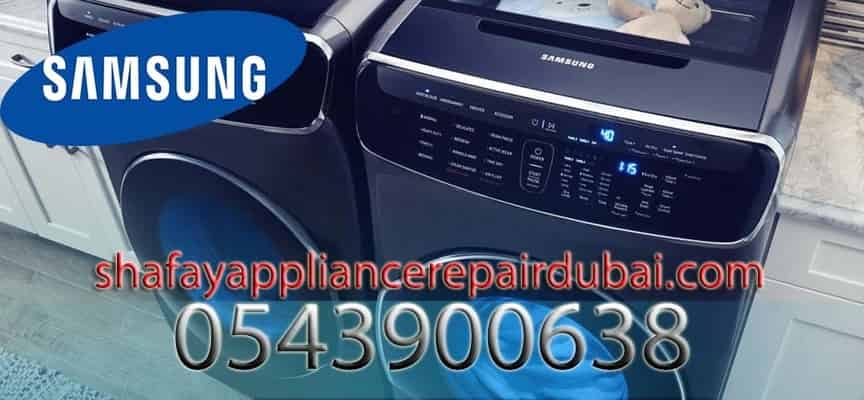 If you are looking for best and affordable Samsung Washing Machine Repair Dubai then, Shafay Appliance Repair Dubai is the best company for you. Because we provide quality and exceptional Samsung washing machine repair in Dubai.
Samsung is a South Korean multinational company. Samsung was founded by Lee Byung-Chul in 1938 as a trading company. Over the next three decades, the group expands into areas including textiles, food processing, securities, insurance, and retail. Samsung entered the electronics industry in the late 1960s and the construction and shipbuilding industries in the mid-1970s; these areas would drive its subsequent growth.
Samsung is a popular brand in home appliances, with various technologies to make laundry easier. And our in-range, Quality and Exceptional Repairing Services, makes repairing easy and at door step for customers. Furthermore, customer satisfection is our first pirority.
Samsung offers various products for washing machines which fulfill the requirements of the users. The innovative Samsung Flex-Wash model is designed to meet all the requirements of laundry needs. It has a separate top and front washer in a single washing machine. Due to which, it saved time in washing the light, colored and delicate clothes, and daily wears.
The Quick-Drive product reduces the washing time by 50% and the consumption of energy up to 20% thereby maintaining the quality of cleaning. Furthermore, Add-Wash product allows the users to drop in any extra during the wash for final rinsing. Due to its popular brand, Samsung becomes one of the top washing brands across the globe.
Based on daily use washing machine is becomes necessary part of our lives. Due to regular use there is a need of regular maintenance of your washing machine.
In case of Repairing and installation of in-operative parts of your washing machine, give a chance to Shafay Appliance Repair Dubai. We are serving in UAE from almost 15 years. We provide Samsung washing machine repairing through out in UAE.
Call us at +971 54 3900 638. We provide 24/7-hour washing machine repairing in UAE.
Scheduling regular maintenance is another great opportunity for ensuring impeccable functioning. Use the Contact Us page to get in touch with the Shafay Appliance Repair Dubai team.
Our high-quality appliance repairing experts reached at your doorstep in minutes on just single call at +971 54 3900 638 and provide same-day maintenance repairing facility at your home or may on the workshop.